COME CELEBRATE WITH US!
This coming Monday, July 31st is the
17th Anniversary of Joan's priestly ordination.
We will have a Eucharistic liturgy to celebrate.
Gather with us at the North Shore Condos Clubhouse
1600 Wildflower Way, South Bend, IN 46617
6 pm socialize with light refreshments
Eucharistic Liturgy at 7 pm
For directions or info: Joan at 724-612-3842 cell
~ ~ ~
Eucharistic Liturgy with the Houks
We have decided to take our Eucharistic liturgies  into the home to celebrate around the table in the way of the early Christians.  If you would like to have liturgy in your home, or to come to liturgy in our home, please contact us.  We are happy to schedule a gathering, and we look forward to celebrating with you.
+Joan and John Houk
Contact Joan at 724-612-3842 (cell)
[email protected]
~ ~ ~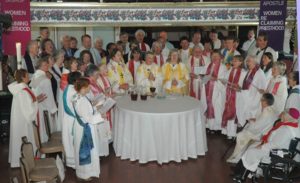 First Ordination of Roman Catholic Womenpriests in the U.S.A.
July 31, 2006 Pittsburgh, Pennsylvania
Seventeen Years!
In Joy and Hope
~ ~ ~
To learn about the Roman Catholic Womenpriests of the
Great Waters Region, go to the web site:
rcwpgreatwatersregion.org