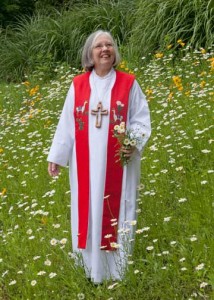 Rev. Joan Clark Houk is a careful and cheerful listener to the movement of the Holy Spirit in the world and in her life.  She and her husband, John, are life partners and occasional partners in ministry.  They have raised six children, and are proud grandparents.  Involved in parish ministry for over 30 years, Joan had been Pastoral Director of two Roman Catholic parishes without priest pastors before her ordination.  Her education includes:
B.A. in Education, St. Martin's College;
M.S. in Conflict Management, George Mason University;
M.Div., University of Notre Dame.
Joan was ordained priest on July 31, 2006 in Pittsburgh, PA.
She was ordained bishop on April 19, 2009 in California.
Joan retired as the active bishop in December 2018.
Joan and John reside in South Bend, Indiana.
Joan's web site:  www.joanclarkhouk.com
E-mail:  [email protected]
Journeying in the Spirit of Vatican II
by Joan on October 15, 2012
Our Roman Catholic Church is often described in terms of Pre-Vatican II and Post-Vatican II.  I am a bridge spanning those two time periods.  What a blessing!  Born in Pittsburgh, Pennsylvania in 1940, I was educated in Catholic schools from first grade until graduation from high school in 1958.  During those years St. Francis Xavier Church was my second family, and the local Catholic high schools were my teen social clubs.  My school friends and I were taught about God's love for us, how we were to treat others with respect, to share our material goods with the poor, and to support the missions around the world with our coins and prayers.  "Hearing" mass, receiving the sacraments, praying the rosary, fasting, following the commandments and rules of the Church would help us to get to heaven.  Everything was spelled out for us in black and white.  We were cautioned to avoid occasions of sin, and avoid friendships with young people who were not Catholic so as not to lose our faith.  We were told that the Catholic Church was the only true Church, and that non-Catholics would not go to heaven.
When the Second Vatican Council opened on October 11, 1962, I was 22 years old, and a married woman with a daughter.  I could have never imagined how my Church was going to change, and therefore, how my life was going to change because of the Holy Spirit moving through the Church.  I embraced the council and Gaudium et Spes, i.e., joy and hope, that moved out through the Church doors thrown open by Pope John XXIII.  As an adult Catholic I had new questions in search of answers, and I found other adults who met in groups in the parish meeting rooms to discuss our questions.  The "mass" was now in English instead of Latin, and it was called Eucharistic liturgy.  We learned that "liturgy" meant "work of the people" because we were all called to conscious active participation with the priest in celebrating Eucharist.  Laity proclaiming the scriptures led to laity gathering for Bible study.  Laity distribution of communion at the liturgy led to laity distribution of communion in hospitals or to the shut-ins in homes.  In time, John and I, as parents, were encouraged to prepare our children for the sacraments of Eucharist, reconciliation and confirmation.  We became parish catechists, and then leaders of parish youth groups.  We were representatives on parish councils, and participated in diocesan events.  Our children were involved in the children's classes, liturgical ministries and other activities. The parish facility became our family's second home.  Along with praying for and sending money to the missions, we were invited to serve the hungry at the soup kitchen.  We marched for human rights, and lobbied against discrimination.  We could now attend a friend's wedding in a Church of a different denomination, and it was probable that my Presbyterian grandfather was in heaven after all.  We were actually encouraged to become involved in ecumenical and interfaith dialogue with our brothers and sisters in the global Family of God.  Yes, I am a bridge between two very different views of Church.  One looks inward with the windows and doors closed, and the other looks outward with the windows and doors open to the world.
+Joan Clark Houk
Joan was ordained a Roman Catholic priest on July 31, 2006.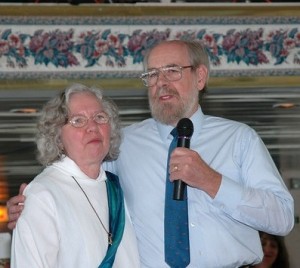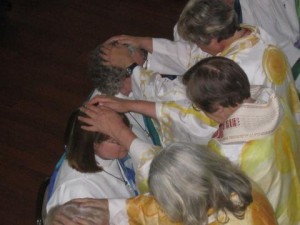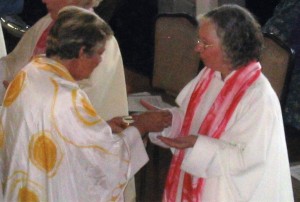 Joan's husband and life partner, John Houk, representing the faith community presents Joan for ordination to priestly ministry.
Bishop Patricia Fresen lays hands on Joan. (women upper most in photo)
Bishop Patricia Fresen anoints Joan's hands with sacred chrism.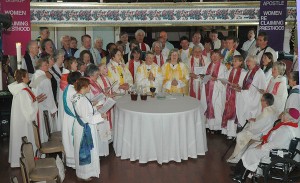 First RCWP Ordination in USA
July 31, 2006 Roman Catholic Womenpriest Ordination in Pittsburgh, Pennsylvania on the Monongahela, Allegheny & Ohio Rivers.
Roman Catholic Womenpriests Vision
A new model of ordained ministry in a renewed Roman Catholic Church
Roman Catholic Womenpriests Mission
Roman Catholic Womenpriests-USA, Inc. (RCWP-USA) is a prophetic organization within an international progressive movement in the Roman Catholic Church.  Its mission is to prepare, ordain in apostolic succession, and support primarily women who are called by the Holy Spirit and their communities to a renewed priestly ministry rooted in justice and faithfulness to the Gospel.
Visit the Roman Catholic Womenpriests web site: www.romancatholicwomenpriests.org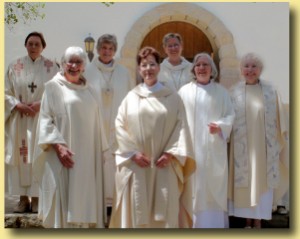 An International Bishops' Circle
Bishops Ida Raming (Germany), Patricia Fresen (Germany and South Africa) and Christine Mayr-Lumetzberger (Austria) ordained Regina Nicolosi, Andrea Johnson, Joan Houk and Bridget Mary Meehan bishops on April 19, 2009 in California.
~ ~ ~
Joan was elected by the members of her region and ordained bishop for the Great Waters Region of the Roman Catholic Womenpriests on April 19, 2009.  The Great Waters Region includes Western Pennsylvania, West Virginia, Ohio, Indiana, Lower Michigan, Illinois, Missouri, Kansas, Oklahoma and Colorado.
For more information about the Great Waters Region:
Regional Administrator, Paula Hoeffer:
[email protected]
Regional Program Coordinator, Susan Vaickauski: [email protected]
Bishop, Mary Frances Keldermans: [email protected]
Great Waters Web Site:
rcwpgreatwatersregion.org
~ ~ ~
PROPHETIC OBEDIENCE:
THE EXPERIENCE AND VISION OF R.C. WOMENPRIESTS
12 March 2005, Patricia Fresen, PhD.
Introduction
It is really exciting for me to be here as SEPA WOC celebrates its 30th anniversary. Thirty years of taking a stand for justice and equality between women and men in our Church, of striving to abolish all forms of domination and discrimination in the Catholic Church, advocating inclusive Church practices, and supporting and affirming women's talents, gifts and calls to ministry.   Congratulations!
Here in the North American continent and in Europe, many groups have come together in the last 20 – 30 years, groups working towards church reform from within, groups such as WOC and WOW and Call to Action. In Europe, there are groups in Austria, Germany, France, Spain, and Holland that I know of and there are probably similar movements in other European countries as well. It was in fact out of one of these initiatives, Kirche von unten, (Church from below) in Austria and Germany that the so-called Danube Ordination Movement began.
The 2002 ordinations on the Danube
One of the aims of Kirche von unten was to take a stand for women's rights within the Church, including the right to be ordained. Gertrud May, a woman of 83 who lives in Munich and whom I know and respect, was active within Kirche von unten and she decided to bring together the two women whom she foresaw could become 'movers and shakers': Christine Mayr-Lumetzberger of Austria and Dr Gisela Forster of Germany. In 1998 Gertud held a salon in her apartment to which she invited women whom she knew were particularly interested in moving towards women's ordination. Gisela and Christine met that evening and that was indeed when things started happening. Groups were formed and they began preparing directly for ordination. Those who needed more theology enrolled at various universities for further study, a program of preparation for ordination was created and the women met regularly in three groups to prepare themselves and plan for their ordination and future priestly ministry.
Their big question was always: where will we find a bishop brave enough to ordain us? They knew some bishops and priests who supported women's ordination, but one with the courage to ordain women publicly would be very hard to find.
Well, they found a bishop: Romulo Braschi of Argentina.   Of the fourteen women who had been in the groups, seven remained to the end. The ordination of the first seven R.C. Womenpriests (as the group is now referrred to in English) took place on 29 June 2002 on the ship 'Passau' on the river Danube. It was a tremendous breakthrough for justice and for claiming the equality of women with men in the R.C. Church. The media took up the story and it sent ripples all around the world and brought hope to many of us. Photographs and articles appeared in newspapers and journals in many countries and dozens of television programs were made about the ordination. The world was aware that something of the utmost importance had taken place. That the Vatican took this very seriously, is shown by the subsequent excommunication of the seven women, on 27 January 2003, signed by 12 cardinals and archbishops. If it had been of no consequence, the Vatican could simply have ignored it.
Two of the seven womenpriests, Gisela Forster and Christine Mayr-Lumetzberger, were later ordained as bishops by several (male) bishops whose identities must be protected. The reason for ordaining women as bishops was really only so that they in turn can ordain priests, not to get locked into the hierarchical structures of the church.
I believe that initiatives, such as WOC, WOW, CTA , Kirche von unten and Wir sind Kirche have emerged out of the great paradigm-shift of our times, as we move away from dualism, hierarchy and patriarchy. We – the ordained women in Austria and Germany, and initiatives such as WOC – are part of this paradigm-shift and, whether we know it or not, we are doing our bit to move it along.
Prophetic Obedience
It is a pity that the official Roman Catholic church clings largely to the values and the worldview of many centuries ago and still organizes itself as a feudal society. It is a pity that the Roman Catholic church is still influenced by the Greco-Roman and later the Augustinan view of women, regarding them as intrinsically inferior to men.   This worldview is reflected in Canon Law and in Church structures.
Prophetic obedience springs from, and leads us towards, a different worldview.
Obedience:
In the older worldview, obedience was understood as doing what you were told by those in authority. But obedience is not doing what you are told by someone else, unless you are a child.   Obedience for adults, as we know, comes from the Latin ob-audire, attentive listening:
listening in the first place to myself, my own formed conscience, my values, my sense of what is right and wrong, listening to my heart;
attentive listening to the signs of the times, to what is going on the world and the church, to new levels of awareness and new developments within humanity
listening, individually and together, to the Spirit, whom we believe is always moving and awakening (yes, calling) us to new levels of awareness. As Isaiah says so often: Listen to me, pay attention and your soul will live. (e.g. is. 55:3)
Prophetic:
Why is this obedience called prophetic? I think it is because the prophets in the Hebrew Scriptures and in the New Testament and our contemporary prophets like Oscar Romero, Dorothy Day, Nelson Mandela, and yes, Gisela and Christine were and are women and men who 'listened to a different drum'. They became aware of what was wrong within their own society and they felt impelled to take a stand, to speak out, to name what was wrong. And, as we know, those in power usually do not want to hear what the prophets say, because it means giving up their positions of privilege and power – or at least sharing privilege and power, and once these are shared, the entire system changes from being dualistic to being one in which the equality, dignity and freedom of all are respected.
In summary:
Prophetic obedience often involves taking a stand for justice in the face of injustice or discrimination. [1]
In prophetic obedience, our understanding of authority and of obedience changes.   The role of leadership is not to give orders but to call the community to be about what they have said they are about, challenging them to be who they are.   Prophetic obedience leads us towards the recognition of equality: Schüssler-Fiorenza's "discipleship of equals", rather than the older 'family' model (Father, Mother, superior-subject) still often found in the Church. In prophetic obedience, we are moving away from this older model towards co-authority, co-obedience and interdependence.
We each live out of our personal centre, our inner authority but at the same time within the framework of the vision we hold in common.
Prophetic obedience may at times require disobedience to an unjust law for the sake of God's reign (In Europe we are often called the 'contra legem' group, because our way is to go against what we regard as an unjust law).
Learning prophetic obedience in South Africa
I learnt about prophetic obedience in SA, our great role model being Nelson Mandela.There are many parallels between racism and sexism.   Both racism and sexism attempt to give all the power and privilege to one group of people to the exclusion of the other group. Both racism and sexism are horrendous systems of injustice. Once one becomes aware of the injustice within these systems, one cannot go back.   We learnt, in the apartheid years in South Africa, that sometimes the only possible way to change an unjust law is to break it. But one person alone cannot achieve this. It takes the voice and the protest of a group, a community, who stand together in the face of injustice. And when the previously-excluded group moves into the structures set up by the group that was in power, the structures change.
Today, in this post-apartheid time, what we have is a transformed South Africa, a rainbow nation, and there is no comparison with the divided apartheid society in which I grew up. It is not perfect; there are still many problems, but the transformation has truly begun and we live and work together in a way that most South Africans would never have believed possible. The system of apartheid, of racial discrimination, has gone from our law and very largely from South African society.
Now we in the Church are on another 'long walk to freedom', this time freedom from sexism, from unjust discrimination against women in the church, freedom from oppression by the privileged clerical caste in the church. Once again, we need to stand together in protest, to break the unjust laws because we cannot wait forever, and we need, at least at the beginning, to move into the structures that exist and change them.
I never dreamt that my experience of the breaking-down of racism in South Africa would in part lead me to where I am today: an ordained Roman Catholic woman whose journey towards ordination has led me to stand up against unjust church laws and join the community of womenpriests in Germany-Austria – and who is standing here today talking about prophetic obedience!
My journey towards ordination
I studied theology in Rome in the 1980's. Often I was the only woman in the class and the men present were nearly all seminarians or priests. As I was invited to one ordination after the other of my classmates, the desire for ordination began to make itself felt within me, but (like so many other women) I always suppressed it, since it was unthinkable.   But it kept coming back, often at the most unexpected moments. And it was confirmed by many who knew me. People would say to me: If ever women can be ordained, I could well imagine you as a priest.
Back in South Africa, I was invited to join the staff of our national seminary in Pretoria, where I taught part of the systematic theology, homiletics and spirituality for seven years. During these years at the seminary, there were many instances when I was excluded.   I was constantly discriminated against … it happened almost without people thinking. I also gave retreats in various parts of the country and found that women were often the worst in discriminating against me. The injustice of it was constantly brought home to me, but I really thought that for me it was too late to think about ordination. I decided that what I could do was to prepare the way for women's ordination, which I was convinced would come some time in the not-too-distant future.
Then in 2002 I read an article about the first group of ordinands, inlcuding Gisela and Christine, who have become known as the "Danube Seven": that they were planning to be ordained as RC priests on 29 June. I remember well the flame of excitement that leapt up inside me as I read this. After that things fell into place in the most amazing way.   I went to a conference in Germany in August and managed to arrange a meeting with Gisela and Christine. It was a meeting that changed my life. They invited me to be ordained.
Back home in South Africa, I began to talk to people who knew me well and found a great deal of support and encouragement from them, but there was also much fear about the consequences. There was no time to gather a 'discernment group' around me, as I had hoped, or to discuss my ordination with leadership. I was ordained during the Women's Synod in Barcelona in August 2003 by the two women bishops.
I am sad that my Dominican Congregation, which is a pontifical congregation and has many elderly sisters in it, did not feel they could officially support my ordination after the fact. Leadership did not think they could jeopardize the lives of so many who had been members of this Congregation for so long. I understood this – but nevertheless I was most grateful for the support of NCAN and others. I had hoped our Congregation would support my ordination, because of the stand for justice we took in the apartheid years and also because we of our strong stand for women's rights. There are statements to this effect in our constitutions and guidelines. Regarding my leaving the Dominicans, there was sadness on both sides and they treated me well, but I did have to face the option of either "repenting", repudiating my ordination and staying in the congregation, or leaving and living as an ordained womanpriest.   There was within me a deep conviction that being ordained was right for me and I needed to do it, whatever the cost, if it was humanly possible. Gisela Forster made it possible for me to live in Germany and I was offered me the job of co-ordinating the program of preparation for ordination. And I have not been excommunicated, for whatever reason. It has turned out to be humanly possible and here I am … a womanpriest but no longer a Dominican, still struggling to learn German properly, in a different hemisphere, a different culture, part of a different community far from home: crazy, really, but perhaps one needs to be a little crazy to live prophetic obedience!
The ordinations continue:   2004 and 2005
I thought that co-ordinating our program would not be too much work. There were seven women ordained in 2002. In 2003 there were only a handful of women were in the program. But in the last two years, the enquiries and applications were already starting to roll in and since then, the numbers have snowballed. There are presently over 50 women working their way through our program to prepare for priestly ministry.
As you may know, there was another memorable ordination ceremony on a ship 'Sissi' on the Danube last year, in June 2004. In the presence of 120 guests, six women were ordained deacons: two from the USA, one from Canada, one from Switzerland, one from Latvia, and one from France. All of them will be ordained priests this year and next year. This was only the second public ordination and we asked the women to come to Europe for it. However, now that the numbers have grown so enormously, particularly in the USA, we are willing to come to the North American continent for an ordination ceremony this year, and possibly in future years as well.
Ten women will be ordained this year, five as priests and five as deacons. The Frenchwoman will be ordained to the priesthood on 2 July near Lyons, on a ship on the Saone.   This will be the first R.C. Ordination in France: a significant church event. On 25 July, we plan a big ordination ceremony on the St Lawrence river, in international waters, embarking from Ganonoque in Canada.   This will be the largest group of ordinands so far. It will be the first ordination of Roman Catholic women in the United States and Canada and as such will be an epoch-making event. We hope to see many of you there.
6.1   Symbolism of ship and water
We like the rich rymbolism of a ship for our ordinations: a ship or boat was a very early symbol of the church; Jesus often preached from a boat and some of his first disciples were fishermen; we too are learning how to fish, how to weather storms, we learn not to give up when we have laboured all night with no result …   The water is also rich in symbolism, as source of life, as alive, flowing, life-giving, moving, dynamic, often unstable and sometimes dangerous. And it's part of prophetic obedience to find that we're all in the same boat!
'Catacomb' ordinations
Some women really cannot risk a public ordination: they hold responsible positions in their diocese or at a Catholic university and they risk losing their jobs if they are publicly ordained. In the tradition of the very early Church, we are willing to go into hiding when necessary. Only a few carefully-selected people will be at these catacomb ordinations and the ordinands will have to see how their priestly ministry takes shape and when they can 'come out of the sacristy'. This differs from one woman to another, according to the circumstances of each, but I can tell you that we are planning 3 or 4 catacomb ordinations this year.
Ordinations in 2006
For next year, we are also planning an ordination on a ship on one of the lakes in Switzerland. More than likely, there will also be an ordination in the United States, since at least five deacons will be ordained this year.   In 2006 there will be a new group of deacons, probably larger than this year's group.
WHY ORDAIN?   OUR VISION AS R.C. WOMENPRIESTS
Why not build up a different model of church and simply bless ministries? Since the dualistic system of clerics and laity in the church has become corrupted by the abuse of power, why ordain women to become part of that system?
The response to this question is in fact an outline of the vision of our group, the RC Womenpriests:
Because we are in a transitional time: we need to claim for women their equal right with men to be ordained.   And we need to do this 'contra legem', to break down an unjust law and yet to remain firmly within the church. (Excommunication does not put one outside the church: it is a punishment which forbids one to participate in the sacraments.) If, in this initial transitional stage we do not ordain women, but merely bless the ministries of everyone, we will do nothing towards claiming equal rights for women in the church. And I believe that no-one would take us seriously. We would be seen as just another sect. We need to take clear action for the equal right of women to be ordained, to break down the sexism which is so rampant in our church structures. One day in the future, perhaps in the next generation or two, there may well be a return to the practice in the very early church, when there was no ordination of priests: people in the comunity took turns in leading the Eucharist, often depending on whose home they were meeting in. For now, I believe strongly that we need to break the unjust law which excludes women from ordination. We must not try to jump over this stage of claiming justice, but allow the process to evolve organically. Later there may well come a time when ordination can be done away with, and ministries, including the ministry of leadership, will nourish the life of the community without ordaining some … but right now, it is vitally important to ordain women and thus claim for them their right as human beings and as Roman Catholics, to be ordained.
Just as the Black people of SA needed to move into the structures set up by the Whites so as to claim their equal rights as citizens of the country, so we women need to move into the structures in the church so as to claim our right to be there. In both cases, the structures are being changed by the presence of the formerly excluded group.
We believe we need to reform the church structures from within. By staying outside of official church structures, we will achieve nothing. We are already excluded and this would mean accepting our exclusion.
By ordaining women, we are re-imagining, re-structuring, re-shaping the priesthood and therefore the church. We believe that it is possible to live and build up a new model of priesthood: that in itself would bring about to a new model of church. These are some of the ways in which we strive to avoid the trap of dualism and clericalism:
Among the womenpriests, priesthood is not part of a power structure. We try to see and live it as a ministry, of leadership certainly but not of domination or exclusion. We do not use the words "clerics" and "laity". In Europe, where we have the Core Group (Praesidium) because that is where it started, everyone is a member: no-one is excluded.   Ordination gives one a different function but not more power. When we have a meeting, the bishops and priests do not have more say than anyone else, although Gisela and Christine do lead the meeting.   Leadership is important, but in a model of shared power: a "discipleship of equals".
We recognize the gifts and talents and responsibility of each person in a differentiation of ministries and live and work together as a community.
We do not have obligatory celibacy, in fact we do not link celibacy and priesthood. Our ordained women may be married or single, hetero- or homosexual, some are grandmothers, a few are divorced and have had their marriages annulled: we are in fact a cross-section of the Christian community in our lifestyles.
We do not promise obedience to the bishop(s). Among the men, obedience to the bishop is an essential part of the hierarchical structure within the church. Rather we try to live prophetic obedience: to find and walk together the 'holy road' along which we trust the Spirit is leading us. A symbol of this attitude is that the bishops prefer it, during an ordination, if the layout can be such that the candidates do not kneel or prostrate in front of them but rather in front of the altar. The bishops and priests sit to the side if it is logistically possible.
We are worker-priests: we are financially independent of the Church and each earn our livelihood in some other way. Financial dependence of priests on their bishop or their Order is a very strong aspect of the power-structure in the hierarchical church.
We use no titles: we have no equivalent to 'Father' once we are ordained, we do not even refer to ourselves as 'Reverend'. We do not think we are more reverend than anyone else. Even our two bishops are simply referred to as Christine and Gisela.
Vestments, chalices, stoles are simple, rather than elaborate or expensive. The bishops do not wear the mitre or carry a crozier, which would make them look taller and more important than everyone else.     Mitres, tiaras and elaborate vestments were for kings and emperors and from the time of Constantine, popes and prelates copied this, as power became more and more linked to the clerical caste.
We have a different model of celebrating Eucharist. (This is not unique to us: there are several groups we know of who have a similar vision to ours, e.g. the community at Nijmegen university in Holland). We sit in a circle, which may be several layers deep. The bishops and priests sit among the others, not up front in special chairs. The table is in the centre. Everyone present is invited to wear one of our silk stoles, as a sign of the priesthood of the baptized. The presider welcomes everyone and opens the gathering. Someone says the prayer of the day, others do the readings, someone else gives the homily or more often, it is shared in some way. People prepare the altar and carry up the gifts. The Eucharistic prayer is often prayed by everyone present, either all together or with different people reading different sections. The words of institution are said by all present. Communion is distributed by the ministers (bishops, priests, deacons, ministers of the Eucharist) to stress their function of service. The community celebrates the whole Eucharist together, but there is a leader, who may be a man or a woman. We use the words and the rite of Eucharist of the R.C. Church.
We are consciously and deliberately ecumenical: we concelebrate with priests and ministers, women and men, of other traditions, especially with Old Catholics, Lutherans and Episcopalians and we invite them to our ceremonies and celebrations. We are also open to discussions with them on issues of interest to us all.
We are aware however, of the danger of buying into, becoming part of, the hierarchical (dualistic) structures, vision and system by becoming members of the clergy. As in the new South Africa, what we have now in the church with ordained women, is not perfect. We need to be very careful that we do not in fact fall into the trap of taking on the old system, just as in South Africa, people need to be very careful that they do not build up another system of racial oppression, this time of Blacks oppressing Whites.
Respecting many models
We also recognize that there are many possible different models of priesthood and of church and many ways of moving towards justice and equality for women and men. While we move forward along our path, we respect the different paths along which others are walking. Hopefully we can walk along together, encouraging one another, perhaps even singing together as we walk, and sharing sustenance along the way. We need to avoid small-minded bickering and jealousies among ourselves in our different communities and life-paths but rather rejoice that we all participate in the larger vision, the call to which we are all responding in our various ways.
Our Program of Preparation for ordination
There are now 56 women preparing for ordination in our program: it has grown beyond anything we ever dreamt of.   18 of these 56 women are in Europe: there are two groups in Germany and Austria, and one woman each from France, Switzerland, Holland, Latvia and Sweden. The other 38 women are in the USA and Canada. At least ten of these women will be ordained this year.   Hardly a week goes by without someone writing to enquire about joining our program of preparation for priesthood.
10.1 The question of call:
People often talk rather easily, even glibly, about call: they write to me; I feel called to priesthood, I have felt called since I was a child. What do we mean when we say this? I often get rather nervous when someone speaks about her/his 'call' as though it is something extraordinary or esoteric, or as though one has a hotline to God. We are, indeed, all called to holiness (LG ch. 1) which means we are all called to strive for truth, justice and love in our lives and to find a life-path in which we can best do this. I believe that God probably gives us quite a lot of latitude here: our calling is not restricted to just one life-path. But our gifts, talents of mind, heart, spirit, personality and our lfie-history fit us for some paths more than for others.
What we mean when we talk about being called is, perhaps, is a combination of some or all of the following:
an inner attraction: I would like to do that, (in this case, priestly ministry), it seems good or right for me and I am at peace when I consider it, even in the face of difficulties, problems and even dangers.
This inner attraction stays with me and tends to flare up into my consciousness now and then, often at the most unexpected moments.
There may however be a struggle within me as I consider the demands, the price I must pay, the difficulties or risks involved and I may try to run away from the whole idea, or at least postpone it.
Nevertheless I believe I have the necessary gifts and talents to do it reasonably well, especially the quality of compassion and a readiness for pastoral involvement.
Friends and community confirm this by saying they think I should or could do it – although they may be fearful of the risks involved.
My personal history and life-situation have brought me to this moment, this place in my life, and I feel compelled to consider ordination.
I do not see myself as better or holier than others, nor do I think that responding to my 'call' will make me so.
No one today believes that 'call' is only for priests or nuns. Rather call or vocation, as I have described it, unfolds within the life of every Christian, every person. We are each called to be the best we can be, to make some contribution to humanity, to our own society, to the church. We each have something unique to offer, some enrichment to bring and we in turn are enriched by others. That is the essence of call.
If you have an inner 'pull', an inner attraction towards priestly ministry that keeps recurring, if you have done some theology or are willing to do so, if you have the quality of compassion and believe you could be happy and effective if your were pastorally involved with people as an ordained woman – or you already are so involved – and if you are strong enough to face the consequences of being ordained at this time – then you could write an email to me at [email protected] or find us on the internet at or www.romancatholicwomenpriests.org or at www.virtuelle.dioezese.de
10.2   Program of Preparation for Ordination
Our program of preparation for ordination is not, of course, the full program of theology which one needs before ordination. We expect the women in our program to study theology somewhere else: at a university or college or seminary. Many women come to us having already completed an excellent program of theology Our program is one which helps people become aware of and develop their spirituality as priests, and also integrates them into our community of womenpriests. The aspects of priesthood which we restructure are built into the program. It consists of ten units, each of which has a personal aspect and a theological or spiritual section. Some of these sections are very pastorally based. If you come to us with a good theological background, we do not expect you to complete all ten units: this is tailored according to the background and needs of each candidate. Each woman in the program needs to come out of a community, to be part of a community to whom she ministers and which spoorts her in her journey towards ordination. She also needs a sacramental mentor.   For women in the USA and Canada, this is a distance-learning program, so the practical aspects of liturgy and sacraments have to be done locally and we help them find a priest who is willing to initiate them into liturgical and sacramental celebration. After someone has been in the program for between one and three years (depending on age, theological and spiritual background, pastoral involvement, readiness   – and if she and we both have a sense that she 'fits in' with our vision and lifestyle) she can be ordained a deacon and six months (or more) later, she will be ordained a priest.
Plans for the future
Since the group is growing so quickly and so many women are asking to join our program of preparation for ordination, we are having to reshape and restructure ouselves as we go along. Our plans for the future include:
Ordinatons every year to keep up with the growing number of women who are in our program and who are in fact ready. Many of them come theologically, pastorally and spiritually very well qualified and as they move through the program they become integrated into our womenpriests' community and develop their spirituality as womenpriests.
Restructuring our program so as to be more effective for distance learning
Having a team co-ordinate the program
Possibly running a summer-school each year in the USA
Getting our Draft Constitutions translated and finalized
Possibly broadening the program to include the southern continents: southern Africa, Australia, Latin America. Up to now, we have never done any advertising: people simply come to us. Most of them have met someone in the program, or they find us on the internet, or they have seen a television program or documentary about us.
Conclusion
We are called, in the first place, as a community: we are Church, the people of God, we are a community called to follow Jesus in the 'discipleship of equals'. Within that community, each of us lives within a smaller community within which we find our place and make our contribution. We discover then, usually to our amazement, that the whole is indeed much more than simply the sum of the parts. As the Grail says, together we are genius. I believe we are all called in some way, as a community and as individuals within that community, to live or at least to support, prophetic obedience.
[1]For some of these ideas I am indebted to Barbara Fiand on what she terms 'Autonomous obedience'. I am writing from memory, so I cannot cite details of her book, which I did not bring with me to Europe.