EUCHARISTIC LITURGY with the HOUKS

"Liturgy with the Houks" will be held on the second Thursday of each month.
Our next liturgy is Thursday, January 12, 2023.
It will be held at our condo community's clubhouse.
(See address and directions below.)
Gathering 6 – 7 p.m. to socialize as some may need to head home early.
Others may want to stay to socialize following liturgy as well.
 Liturgy will begin at 7:00 p.m.
Theme:  Wonder and Awe
Isaiah 40:3-5; Psalm 98:1-4; Luke 2:22-40
We will have beverages.  If you would like to bring something, there will be a table for snacks.
Address:
North Shore Club Condos Clubhouse
1600 Wildflower Way
South Bend, IN 46617
at the end of Wildflower in the cul de sac with parking spaces provided.
Directions:
North Shore Club condo community is at Angela Boulevard
and North Shore Drive, at the bridge over the St. Joseph River.
Wildflower Way is the second street on the left after entering the community.
See you on Thursday, January 12.
+Joan and John Houk
Contact Joan at 724-612-3842 (cell)
jhoukmdiv@mac.com
~ ~ ~Liturgies celebrated in your home,
or in my South Bend home,
are always welcome.
~ ~ ~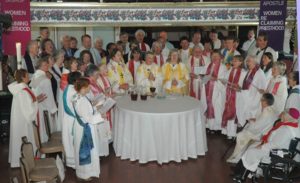 First Ordination of Roman Catholic Womenpriests in the U.S.A.
July 31, 2006 Pittsburgh, Pennsylvania
Sixteen Years!
In Joy and Hope
~ ~ ~
To learn about the Roman Catholic Womenpriests of the
Great Waters Region, go to the web site:
rcwpgreatwatersregion.org