EUCHARISTIC LITURGIES with the HOUKS
Held on the 2nd Thursday of each month at 7:00 p.m.
Next liturgy with the Houks will be on Thursday, May 9 at 7:00 p.m.
PLEASE NOTE:
Just for the month of May
We will gather at the North Shore Condos Club House.
Venue for June through December 2019 will be the Hilton Garden Inn.
The Club House is located in the North Shore Club Condos
(at the end of Wildflower Way in the cul de sac)
at 1600 Wildflower Way, South Bend, IN 46617
(The North Shore Club condos are at the intersection of
North Shore Drive and Angela Blvd. at the St. Joseph River.
Wildflower is the second street to the left in the condo complex.)

The scripture readings:
Acts 8:26-40; Psalm 66; John 6:44-51
 Del Shawn will accompany us on the piano.
Jane Pitz has accepted Joan's invitation to give the homily.
Following the liturgy we will enjoy light refreshments.
We will have a basket for donated items for
Our Lady of the Road and St. Margaret's House outreach.
Clothing, socks, underwear and toiletries are always needed.
Financial donations appreciated by each.
Blessings, +Joan
RSVP to Joan at 724-612-3842 (cell)
jhoukmdiv@mac.com
~ ~ ~
Papal Prayer Intention for April 2019:

Doctors and their collaborators in war torn areas
For doctors and their humanitarian collaborators in war torn areas, who risk their lives to save the lives of others.
Papal Prayer Intention for May 2019:
Evangelization:  That the Church in Africa, through the commitment of its members, may be the seed of unity among her peoples and a sign of hope for this continent.
~ ~ ~
Liturgies celebrated in your home,
or in my South Bend home,
are always welcome.
~ ~ ~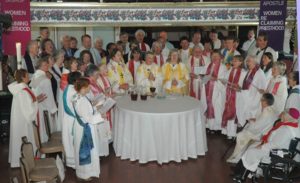 First Ordination of Roman Catholic Womenpriests in the U.S.A.
July 31, 2006 Pittsburgh, Pennsylvania
Twelve Years!
In Joy and Hope
~ ~ ~
To learn about the Roman Catholic Womenpriests of the
Great Waters Region, go to the web site:
rcwpgreatwatersregion.org