VERY IMPORTANT REGARDING
EUCHARISTIC LITURGIES with the HOUKS

Due to the advisory by the CDC that people over 60 years of age and those with certain medical conditions should avoid being in large groups, traveling, and attending religious services, our monthly liturgies are being cancelled for March and April.  May you all be blessed with good health during this time of the spread of the coronavirus.
Blessings, +Joan
RSVP to Joan at 724-612-3842 (cell)
jhoukmdiv@mac.com
~ ~ ~
Papal Prayer Intention for March 2020:
Catholics in China:  We pray that the Church in China may persevere in its faithfulness to the Gospel and grow in unity.
~ ~ ~
Liturgies celebrated in your home,
or in my South Bend home,
are always welcome.
~ ~ ~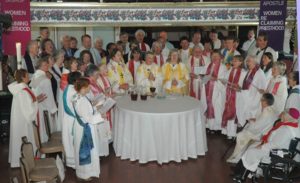 First Ordination of Roman Catholic Womenpriests in the U.S.A.
July 31, 2006 Pittsburgh, Pennsylvania
Thirteen Years!
In Joy and Hope
~ ~ ~
To learn about the Roman Catholic Womenpriests of the
Great Waters Region, go to the web site:
rcwpgreatwatersregion.org