EUCHARISTIC LITURGIES with the HOUKS
Held on the 2nd Thursday of each month at 7:00 p.m.
at The Hilton Garden Inn
Next liturgy with the Houks will be on Thursday, June 13 at 7:00 p.m.
The Hilton Garden Inn is located behind the Inn at St. Mary's
on Rt. 933 next to St. Mary's College
It is a convenient location with plenty of parking
in all kinds of weather, lighted, open and safe,
and kind to those with walkers or in wheelchairs.
The scripture readings for June 13th:
2Corinthians 3:15 – 4:1, 3-6; Psalm 85; Matthew 5:20-26
 Del Shawn will accompany us on the keyboard.
Following the liturgy we will enjoy light refreshments,
and share our thoughts on the scriptures.
We will have a basket for donated items for
Our Lady of the Road and St. Margaret's House outreach.
Clothing, socks, underwear and toiletries are always needed.
Financial donations appreciated by each.
Blessings, +Joan
RSVP to Joan at 724-612-3842 (cell)
jhoukmdiv@mac.com
~ ~ ~
Papal Prayer Intention for June 2019:
Evangelization:  That priests, through the modesty and humility of their lives, commit themselves actively to a solidarity with those who are most poor.
~ ~ ~
Liturgies celebrated in your home,
or in my South Bend home,
are always welcome.
~ ~ ~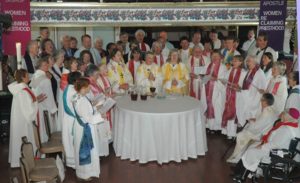 First Ordination of Roman Catholic Womenpriests in the U.S.A.
July 31, 2006 Pittsburgh, Pennsylvania
Twelve Years!
In Joy and Hope
~ ~ ~
To learn about the Roman Catholic Womenpriests of the
Great Waters Region, go to the web site:
rcwpgreatwatersregion.org