EUCHARISTIC LITURGIES with the HOUKS
Held on the 2nd Thursday of each month at 7:00 p.m.
at THE HILTON GARDEN INN
The Hilton Garden Inn is located behind the Inn at St. Mary's
on Rt. 933 next to St. Mary's College.
It is a convenient location with plenty of parking
in all kinds of weather, lighted, open and safe,
and kind to those with walkers or in wheelchairs.
NEXT SCHEDULED MONTHLY LITURGY
is on
Thursday, February 8, 2018 at 7:00 p.m.
with Shared Homily of the scripture readings:
1Kings 11:4-13; Psalm 106; Mark 7:24-30
 Social time will follow the liturgy.
Refreshments will be provided by the Hilton Garden Inn.
We will have a basket for donated items for
Our Lady of the Road outreach.
Warm winter items of clothing are much appreciated.  Men's needs are greatest.
We hope you are able to join us on February 8th.
Blessings, +Joan
RSVP to Joan at 724-612-3842 (cell)
jhoukmdiv@mac.com
~ ~ ~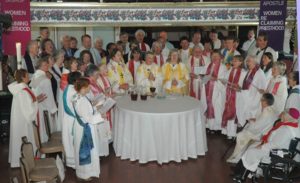 First Ordination of Roman Catholic Womenpriests in the U.S.A.
July 31, 2006 Pittsburgh, Pennsylvania
Eleven Years!
In Joy and Hope
~ ~ ~
If you are interested in participating in Eucharistic Liturgies in the greater South Bend / Michiana area,
please contact Joan:
Joan 724-612-3842 cell
jhoukmdiv@mac.com
Liturgies celebrated in your home,
or in my South Bend home,
are always welcome.
~ ~ ~
Papal Prayer Intention for January 2018:
For Religious Minorities in Asia: that Christians, and other religious minorities in Asian countries, may be able to practice their faith in full freedom.
Papal Prayer Intention for February 2018:
Say "No" to Corruption:  That those who have material, political or spiritual power may resist any lure of corruption.