HOME EUCHARISTIC LITURGIES
Held on the 2nd Thursday of each month
NEXT SCHEDULED MONTHLY LITURGY
on
The Exaltation of the Holy Cross
Thursday, October 12, 2017 at 7:00 p.m.
with Shared Homily of the day's scripture readings:
Malachi 3:13 – 4:2; Psalm 1; Luke 11:5-13

Gather at Joan & John Houk's House
1521 Wildflower Way
South Bend, IN 46617
at
(North Shore Condos off Angela Blvd.)
Refreshments and social time will follow the liturgy.
We hope you are able to join us on October 12th.
Blessings, +Joan
RSVP to Joan at 724-612-3842 (cell)
jhoukmdiv@mac.com
~ ~ ~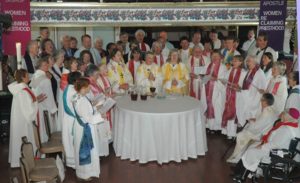 First Ordination of Roman Catholic Womenpriests in the U.S.A.
July 31, 2006 Pittsburgh, Pennsylvania
Eleven Years!
In Joy and Hope
~ ~ ~
If you are interested in participating in Eucharistic Liturgies in the greater South Bend / Michiana area,
please contact Joan:
Joan 724-612-3842 cell
jhoukmdiv@mac.com
Liturgies celebrated in your home, or in my South Bend home,
are always welcome.
~ ~ ~
Papal Prayer Intention for October 2017:
Workers and the Unemployed: That all workers may receive respect and protection of their rights, and that the unemployed may receive the opportunity to contribute to the common good.